I cannot contain my super top secret any longer!
To set the scene:
Imagine me, leaping around the house, pigtails flying, singing "tra-la-laaaaa" a la Captain Underpants, bumping into doorways, with small children and a giant dog excitedly chasing after me.
Got it?
That's how thrilled I am .
Crafterall has landed at the Museum of Modern Art retail store in New York!
Currently, they're selling these lovely "Layered Love" cards in time for the mushy stuff to come next month.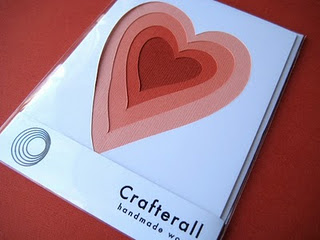 Coming in February, these custom colored topography card sets in Sea Foam, Royal, Poppy and Violet.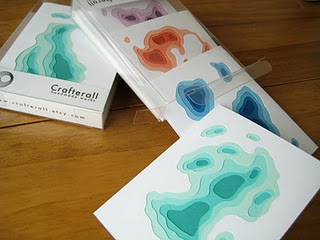 It's been rough keeping this news under wraps until I knew the cards were physically in the store. I had told a few people after I was first contacted by a MoMA rep, but I made them swear to secrecy and threatened them with dollar store greeting cards for the rest of all their birthdays if they leaked the news.
While I was prepared to undertake the size of the order, I did climb a pretty steep learning curve related to the paperwork and shipping procedures necessary to conduct business with a bigger retail outlet. For instance, I now know what a bill of lading is and have created my own version of one to use again, as well as my own custom packing slip and invoice. I feel so... official.
So, many of you are probably wondering how this all happened. I suppose I can say that great product photos, original designs, and a swing toward to the modern side of styles was all it took, but I think luck played a very nice hand in this instance.
Back in late August, I was contacted via Etsy by a Paper Products Manager for MoMA Retail who was browsing the stationary on the site and was drawn to my topography cards. Luck. She requested some samples, I sent her a few topography cards in a variety of colors as well as a couple of other cards I was making at the time.
Around that time, I was transitioning from a discontinued line of cardstock to a newer one with more color options (luck), so a few weeks later, I sent more samples and a color swatch sheet for reference. The rep conferred with her people and got back to my people (well, just me, really), with four color choices for a custom set, and also mentioned interest in buying the heart cards for Valentine's day. Luck. She was also able to give me a heads up on the item count before the actual purchase order giving me ample time to complete everything. She has been a dream to work with since our very first correspondence and continues to cheerfully lead me through the big business processes. Major Luck.
So that's that! I've googled "Etsy" and "MoMA" together a bunch of times and have not yet read anything from anybody else like me who's been hand plucked like this. Has this or something like it happened to anyone else out there? I feel very strange, honored, and I'll say it again, LUCKY to be where I am.
And I'm happy as can be.
Perhaps it's a bit of a stretch, but it sort of feels like I've won a big award. So, in that light, I'll close this post with my acceptance speech full of thanks and dedications:
Thank you so much! Seriously, thank YOU! Yes YOU, reading this blog post right now. Because I know you care enough to come to my blog and read through this, I grow more confident and continue to create pieces that may catch the eyes of highfalutin retail shop managers. Thanks, too, to my friends and family who offer good criticism and support of what I do. Specifically, I thank my dear friend Kendra Zvonik who has held my hand through this whole process, who pulls my feet back down to earth when I float away in uncertainty, and who lifts me up when I wallow in frustration. I dedicate these happy vibes to my patient and supportive hubby and to my two crafty girls who've quietly watched me cut paper in my studio when they would have rather been playing hide and seek or wild cat rescue.
It feels so great to let this kitty out of the bag. Let's hope it enjoys a wild adventure out there!