Coming up for air here, after completing more than a handful of fun wholesale orders, fulfilling some awesome custom requests, and working on some NEW things for the shop. Imagine me, resurfacing form my basement studio, gasping for a breath, and with a huge, cheeky smile on my face. Life is good! This is a meaty post with lost of photos, so grab a beverage, find a comfy spot to sit, and read on!
First, a look at some custom pieces from the past two weeks. This is a "reverse" layered piece I cut of the Bahamas: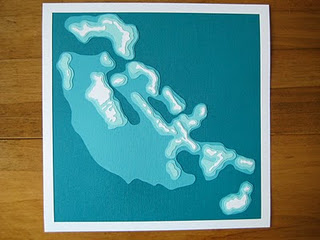 I started by cutting the white of the islands, layered those tiny pieces over the lightest shade of aqua, cut again, layered again, and so forth. As with most of my custom orders, I consider the region quite a bit while I'm working on it, and with this one, I enjoyed convincing myself that I was warmed by the equatorial sun as I carved out these island oases. It was well worth the time!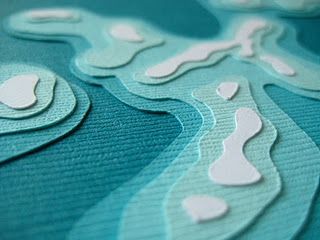 Then, I had a cool request for the Great Lakes.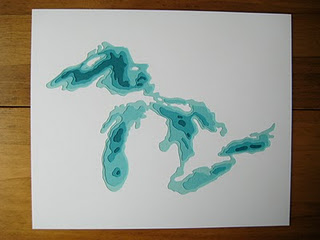 While I disliked having to simplify some of the outlines for the sake of space, I thoroughly enjoyed creating the familiar silhouette of these massive bodies of water as well as learning about the bathymetry that lies beneath the surfaces of each lake. Who knew Lake Erie was so relatively flat, and that Lake Superior was spooky deep? (Well, probably loads of science and geology folks know that, but I learned something!)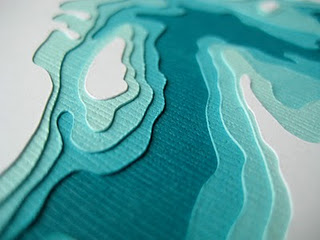 One of the things I like best about working on custom orders is that they push me to try new things. Case in point, a custom order for Kim, a lovely mom and apple orchard owner. (Plug: She also has her own Etsy shop too!) She wants to start a gallery of apple-related art in a store on the orchard property, and she asked me if I could make a layered papercut with an apple as the subject. I could, and I did!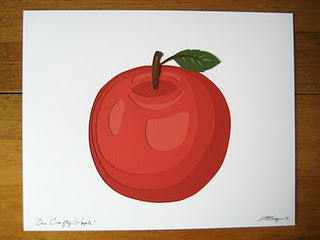 It was fun to use a variety of bold colors and to layer the paper differently than I usually do. I think it turned out well and I'm tempted to make more like this. Thanks, Kim!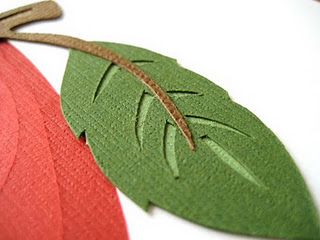 Lastly, I worked my fingers to the bone finishing fifty of these little beauties for a delightful shop owner in Chicago. They are blank cards featuring a layered papercut of Lake Michigan with a little star representing the Windy City. Aren't they cool?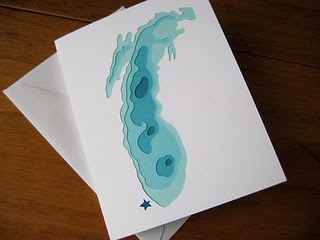 After a while, the shape of Lake Michigan began to resemble a strange, large-abdomen-ed insect, but filling in the shape with the depth layers helped dispel that idea. ;) Silly me.
New in the shop this month, the "Layered Love" cards are back for Valentine's Day and they're better than ever. Brighter colors, bigger hearts, and your choice of Poppy Reds: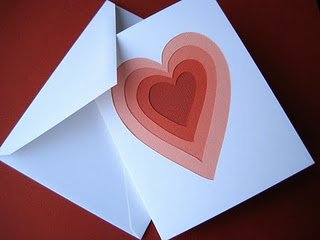 Or Pinky Pinks: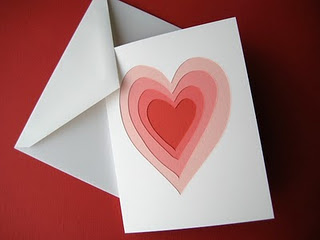 I also introduced the new Teal colorway into the Topography piece collection: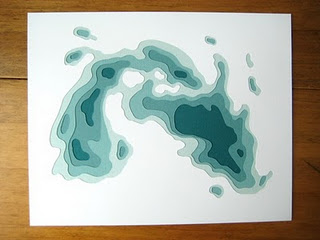 It's lighter and bluer than the aqua scheme, and I really like it. As you can see in the piece above, I'm working more islands into my pieces as well. It takes more time to do this, but I believe the result is totally worth it.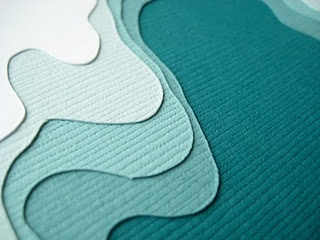 Finally, I worked through a sketch I've had in my head for a long time and came out with these fun, new card sets. I call them "Googie cards" after the mid-century Googie architecture movement with all its funky geometry and groovy color palettes. Mine come in sets of two cards with one card layered dark to light and the other card layered light to dark. Far out, huh?
They're available in Sea Foam (where did I put that leisure suit?):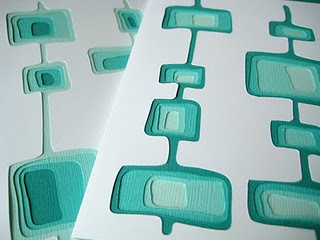 Harvest Gold (just like Grandma's oven!):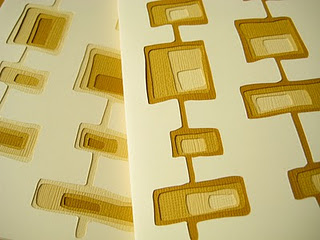 and Avocado, baby (reminiscent of that delicious shag carpeting you tore out of your old house):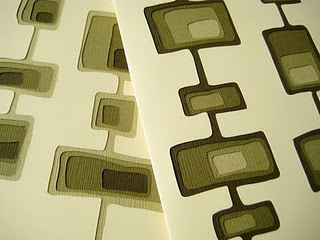 It was nice to take a little break from non-stop topography and it has always been fun experimenting with new ideas. Man, I love what I do!