Take Two!
On
24 Sep, 2009
By
crafterall
2 Comments
My second Uptown Market event (the final U.M. of the year), was even better than the first. The weather was absolutely gorgeous: no threat of rain, a light breeze, and a temp in the mid-seventies... Ahhhhh. The turn out was a little better, my display was more catchy, and my neighbors were awesome.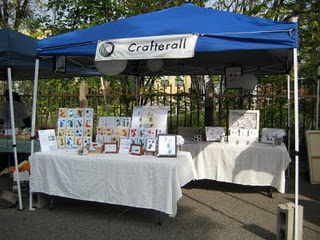 I put one table all the way to the front of the booth and squeezed in most of the topo pieces there. I staggered the second table a few feet back and placed the flower pieces and the 8 x 10" works on it. Only a few people ventured all the way back to the second table and it definitely helped when I invited people there or pointed it out.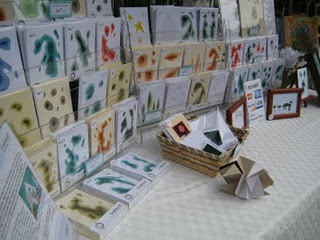 One of my favorite parts of the day was watching people do double-takes when they passed my booth. They'd be cruising along, glance over at my display, look ahead again, then quickly turn back, stop in their tracks, and make a line for the table. Sweet! I'm sure some of them were just curious about what all those "colorful blobs" were, but some asked great questions, spent a few minutes browsing, and a few even bought something for themselves.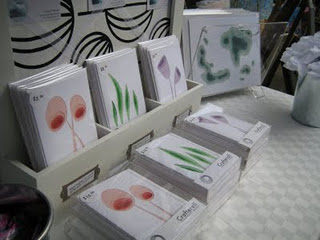 The best seller, hands-down, was the Chain of Lakes pieces. Local folks shopped locally and liked the piece that represented so much of what makes their neighborhood beautiful. Because of those pieces, I also received many inquiries about custom work of other lakes and areas.
To my left was the painter, Patrick Ginter and his colorful, eye-catching works. The only thing more colorful than his paintings was his personality and sense of humor. I enjoyed our little chats and random musings throughout the day.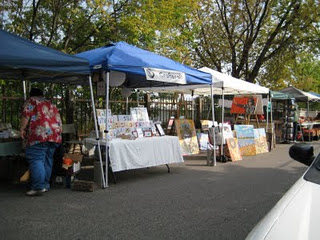 On my right was a talented team of cousins who put together a sell-out spread of organic goodies made from local fruits and veggies. Mary Ann Knox, a bit of a local celebrity and compost queen, along with her cousin Linda were experts at luring folks in with delicious-looking treats and handling the entire event with professionalism and bright attitudes. I bought one of their outstanding pecan pies before they were gone. Divine!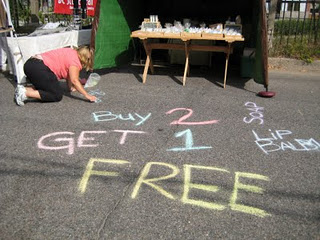 A little further down the street, a sweet-smelling bath and body vendor had the genius idea to do a little sidewalk chalk promotion. I complimented their idea and they were kind enough to let me wear down a couple of their sticks for my own little walk-over ad. I'm not sure a ton of people noticed it, but it was a fun experiment.
I also met the delightful Miss Laura Brown who made a special point to find me, introduce herself, and declare her intent to be my friend. How could I resist? :) Later in the day, she ambushed my booth and dropped off an adorable, felt, mini-pennant banner that I immediately strung up on my front table. Super cute. Laura has a sweet little shop on Etsy too!
As usual, there were a few musicians busking here and there. Two spots down from me, a couple of dudes struck up a few tunes playing Avett Brothers songs and a few others. It made for a nice mood and some sing-along moments. Here's a little clip and a short panorama:
Before, during and after the market, I was MUCH less keyed up than I was for the first one. I knew pretty much everything I needed to know and felt confident about what I was doing. Matthew helped me set up and take down, and then spent most of the day with the girls. My mother-in-law stopped by for a while and brought my Leah Bear with her for a nice visit.
In all, the Uptown Market was an enjoyable opportunity for me to be introduced to the world of craft fairs. I felt successful and inspired. Boo-ya!