I Put the "Hole" in Wholesale
On
16 Dec, 2009
By
crafterall
4 Comments
Pardon my papercutting pun; I couldn't resist.
Recently, I had the pleasure of accepting a wholesale re-order from the delightful folks at Shoppe Local. I'm excited by how quickly the request came after the initial order, and by the fact that the shop itself seems to be doing well. The downside, if there is any, is that it's a lot of work to turn out a big batch of topographic pieces and card sets, especially when I try to make my turn around time as short as possible. Still, I do enjoy my work and I love the business, so no complaining from me! This time around, I thought I'd snap a quick before and after shot of my work. Here is the stack of colored cardstock, white cardstock, white pre-scored cards, and my two well-traveled tools for cutting and sticking: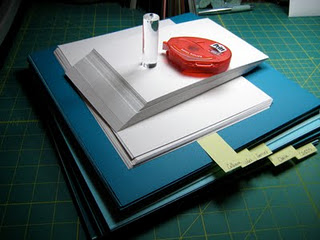 And here is the finished work, piled up once again on my studio table, this time as completed and packaged pieces ready to head to the shop: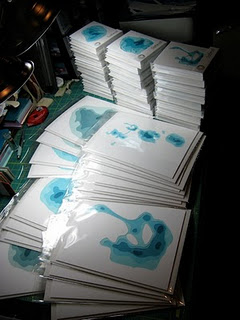 I relish the satisfaction of completing a project like this. I'll admit that I do a little dance, raise my fists in the air, and make obnoxious crowd-cheer noises when I'm done. I figure I've earned it, right?