Making Lemonade, or in this case, Coupons
On
17 Nov, 2009
By
crafterall
8 Comments
A while back, I ordered a batch of business cards. To my dismay, they arrived with all sorts of errors making them essentially unusable. But the cardstock was a very nice thickness and I felt like there must be something I could do with them. Ta-da! Coupons!
By covering up all the misprints and making them look more interesting, I transformed them into snazzy little coupon cards to include in orders from my shop. Here's how I make them:
I start by punching a one-inch hole on one side of the card. This isn't necessary to making them coupons, but it's an easy way to make them stand out.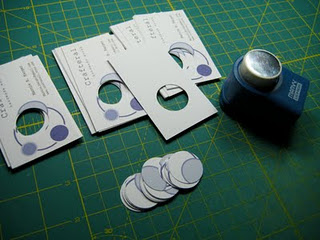 And to show my true pack-rat/craftiness, I've been saving those little punched circles and piecing together a garland by gluing two together over a length of string. I couldn't possibly throw away perfectly good little circles! ;)
Next, I cut pieces of cardstock to fit just inside the length and width of the business card. This cardstock comes from the edges of the bigger sheets I use to make my cards and art -- yet another thing I save for just such a occasion. Using my handy-dandy adhesive dispenser, I get the punched card good and sticky.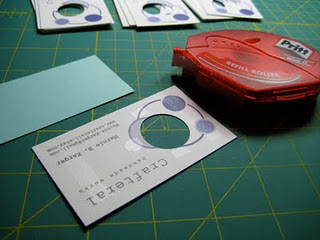 Then, I center the cardstock over the business cards, and most of the letters and images are covered up!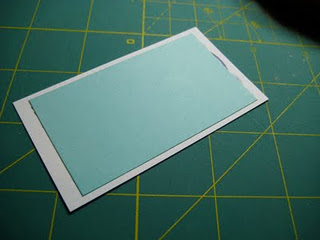 Then, again because I like to be crafty, I punch the colored hole I've created once with a regular-sized hole punch, and twice with a small punch, so it looks basically like this: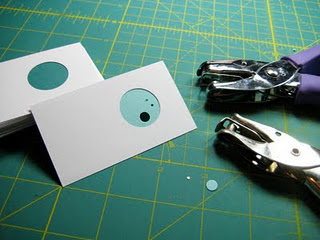 Sort of lunar, don't you think?
Then I print out my text onto return address labels. One sheet gives me thirty stickers. When I created the labels on the computer, I rotated the text on one end to allow me to fold the label over the top edge of the coupon, like so: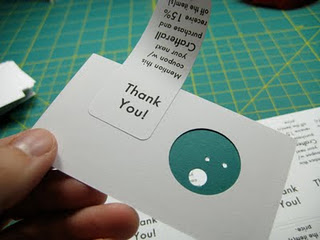 A few minutes later, I have thirty cute, unique, and hopefully useful little coupons, and I've turned the lemons of my bum business cards into lemonade... or coupons... with a lemony zing, if you will. ;)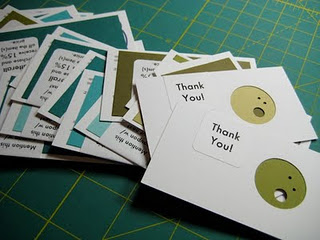 What do you think? Do any of you include coupons? How about other tricks for using misprinted or outdated business cards?
Thanks for taking a look. Happy crafting!